Please read through the following racing rules and instructions.


Racing Rules:

Racers must start in there proper respective CLASS
Racing age is your age on December 31 of current year - same as USAC, NCNCA etc...
You must have your class number marked on your calf (or use seat post sticker).
All racers must attend the pre-race safety announcements.
Racers must finish the race riding, pushing, or carrying their bike.
No short cutting of course is allowed. If you cut the course you must go back and re-enter where you left the course.
Racers must complete all laps required for their category/class. Non completion of all your laps is a DNF.
Racers are permitted support from other racers or spectators.
Racers may leave the course to make necessary repairs as long as they return to the course at the exact location where they left.
Law Abiding: Federal, State and Local laws and ordinances must be abided by at all times.
NO headphones or earphones are to be used anytime you are on the course. This will result in immediate disqualification.
Have fun! That is why we are out here :-)
Sportsmanship conduct: Dangerous riding, use of profane or abusive language, or other unsportsmanlike behavior will not be tolerated. We are out here for FUN! Such behavior by any racer shall be subject to warning or immediate disqualification at the Race Directors sole discretion.


Racer protests must be filed in writing on an incident form available at registration with the Scoring Official within 15 minutes of completing the race. In keeping with the atmosphere of our grass roots ideals: friends and family getting together for a good time, all protests will be reviewed and amicably resolved by the parties involved with the ultimate decision made by the race director.


Category (Class) Descriptions:

Please try to situate yourself in the proper class. Being in the proper class from the get-go is a plus for everyone and better for your points. Racing age is how old you are as of December 31 of the current year - same as USAC, NCNCA etc...


BEGINNER JUNIORS: (1 lap) This class is for 13 and under, possibly first timers and don't want the pressure of the rest of the main field during their race. A parent may ride along with them and must sign a waiver! This will be one lap around the adult course and will start at 5:40, finishing just before the main adult start.

FIRST TIMERS: (1 lap) For those who have never raced before and don't want the pressure of the rest of the main field during their race. The option of a mentor/coach to ride with them during the race may be available, please contact us a week prior if you would like a mentor. This will be one lap around the adult course and will start at 5:40, finishing just before the main adult start. Scoring: Lap times will be posted but there are NO Series points or awards for this class.


BEGINNER: You will be doing two laps around the course. This class is for those who have only raced one or two times before and ride maybe 2 times a week. Watch for the possible split for the Beginners on the race course... or you will be doing extra mileage and technical stuff!


SPORT: 3 laps around the course. You've been riding for a while, you can ride Granite Bay, Auburn and Salmon Falls and do OK. You might spend 3-4 days a week riding.


EXPERT: 4 laps around the course. You can blaze just about any trail. You train 4-5 days a week for the cycling season and you live to crush your competitor buddies.


ProEXPERT: 4 laps around the course. You are FAST, even your friends say you are fast, even YOU think you are fast... You can blaze any trail at speed... no money, just GLORY!


SINGLE SPEED: Bikes with one gear. Two classes: SS Expert (4 laps), SS Sport (3 laps).


CLYDESDALE: Are you 210 lbs (*NAKED!) or over? The Clyde's class is a class for the big guys at the Sport level and they do 3 laps. Watch out! They can be pretty fast. If you are not at least at the sport fitness and skill level, try the Beginner class instead. * If you are protested for weight you will be weighed after the race in only your shorts - if you are under 210# you will be moved into your Sport age class the following races.


TANDEM: What's to say? If you've got someone you just can't live without, strap them on back and ride! (3 laps)


OPEN 60+: If you're 60 years of age or older and want to throw down some laps with your buddies this class is for you. This (can be a fast) sport level class. Grab your bike (doesn't matter how many gears) and get to the start line! (3 laps)

E-bike OPEN: All ages. E-bikes must have fully operable pedals and an electric motor of less than 750W (1hp) and a top motor powered speed of 20 m.p.h. when operated by a rider weighing 170 lbs.

IF YOU ARE 40+ YOU ARE ALLOWED TO RACE DOWN ONE AGE GROUP IF THERE ARE MORE THAN 5 RACERS IN THE YOUNGER CLASS :-)


Scoring and Points:

Each racer will accumulate points for each race in their particular class. Points will be awarded as follows:


First place 50 points, second 49 points, third 48 points, fourth place 47 points etc.
Minimum of one point for starting and one point for finishing.
In the event of a tie, the top placement will go to the racer with: The most firsts, then seconds, then thirds etc. If it's a full blown tie it goes to who beat who in the last race.
CLASS CHAMPIONS and final season placement are determined by your best 8 out of the 10 races in this Series. NO POINTS for the First Timer class, for fun/learning only!
Rain/mud/100 degree days... gets you the number of points that there are races left in the Series.
SCORING PROTESTS: If you email us after the scores are posted with a scoring protest because your are SURE you were ahead of that other racer you have until 6 pm the Friday following the race to email us with your scoring protest. After that all scores are FINAL.
NOTE: If you make Brian watch "PCRS the Finish Line Movie" and your protest is NOT upheld you will owe the staff and Brian a round of beverages at the next race!


Mandatory Upgrades/Class Changes:

We have a system to ensure quality racing in each class through controlled upgrades. This means it is best to be in your proper competitive class right from the beginning. If you voluntarily upgrade by your 2nd race you take 90% of your points, after your second race any class changes and you will take only 75% of your points with you to the new class. It is best to be in your "proper" class from the get go, or at least before your 3rd race.

CRITERIA FOR MANDATORY UPGRADE:
1) If you place in the top 3 in your first two races in that class.
2) Your laps times would put you into the top 33% of the class you would upgrade into. Note: Class size and age group is also considered.


ALL Races are held within the Prairie City Off Road Vehicle Park south of Folsom, CA. (see map page for directions) or click HERE for an aerial view of the area.


Each lap around the course is between 2.5 and 4 miles long. The first races are shorter getting longer as the season progresses. Beginners do 2 laps, Sport is 3 laps and Expert is 4 laps. there are numerous single track trails and dirt roadways on the property. Each week we set up a different course which makes for some exciting racing! I will start the first half mile or so on a wider dirt road so that you racers can sort yourselves out a bit before hitting the single track.


We set up the main MTB course using 9" high ORANGE plastic cones. If there is a sharp turn, I place 2 or 3 BLUE and ORANGE cones on their side "pointing" in the direction of the turn. If there is a steep drop or technical part of the track it will be preceded by multiple ORANGE and BLUE cones. If we use course beginners split I use bright YELLOW /GREEN cones. Because there are so many different trails I ALWAYS recommend PRE-RIDING the course, this will help prevent you from making a mistake the first time around at "race speed". We have three main hills on the course and I will include at least one of these in the course each week.


Finish line, number plates etc:
We need your help in scoring! You MUST be responsible
for the following if you want to be scored.
Be sure you are registered in the proper class - see the class category and number list.
Your number plate must be correctly attached to the front of the bike - on TOP and on the OUTSIDE of all cables and brake lines.
After you cross the finish line STAY IN ORDER in the finish chute until your number is recorded.
PLEASE slow down (but do not stop!) after the finish line, be sure the video camera sees you.
DO NOT go back under the arch after you have finished.
If you do not finish the race please sign the DNF sheet if you want your DNF points
Please move away from the finish area after your position has been recorded.
KEEP your number plate. It will be YOUR number plate for the entire season! If you change classes you will need to exchange your number plate. If you lose your number plate/timing chip you will need to purchase another number plate ($5).
Information about number plates and timing chips
(that's how we score you)


BE SURE TO KEEP YOUR NUMBER PLATE FOR THE WHOLE SEASON. If you lose your original number plate with timing chip you must purchase a new one for $5. If you do not have a Prairie City Race Series number plate with a timing chip you will cannot be scored!


There is only ONE acceptable way to mount
your chip equipped number plate: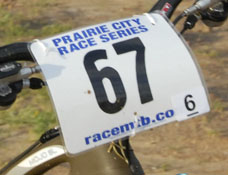 Your number plate must be mounted on the front of your bike IN FRONT of all wires, cables etc. NOTHING can be in front of your number plate or the chip will not read properly

This is a good example of how to mount your number plate :-)




NONE of the following plates are acceptable, you will NOT get scored!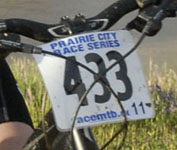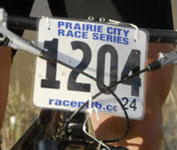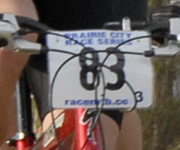 ---
Classes for 2017:
Your CLASS NUMBER below is the number you will write on your left calf
so other racers can identify who is in there class during the race.
NOTE: Your class number is NOT the same as your START ORDER
RACE AGE: Your race age is how old you are on Dec 31 of the current year
Class #
Class
Age
# start
# end
Laps
1
ProExpert
ALL
1
29
4
2
Expert Men
29-
30
159
4
3
Expert Men
30-39
30
159
4
4
Expert Men
40-49
30
159
4
5
Expert Men
50-54
30
159
4
6
Expert Men
55+
30
159
4
7
Open 60+
60+
900
999
3
8
Expert Women
ALL
160
199
4
9
Sport Men
17-
200
299
3
10
Sport Men
18-29
200
299
3
11
Sport Men
30-39
200
299
3
12
Sport Men
40-44
300
399
3
13
Sport Men
45-49
300
399
3
14
Sport Men
50-54
400
499
3
15
Sport Men
55+
400
499
3
16
Sport Women
39-
400
499
3
17
Sport Women
40+
400
499
3
18
Beginner Jr. Men
13-
900
999
1
19
Beginner Men
14-17
500
599
2
20
Beginner Men
18-29
500
599
2
21
Beginner Men
30-39
500
599
2
22
Beginner Men
40-49
600
699
2
23
Beginner Men
50+
600
699
2
24
Beg Jr. Women
13-
900
999
1
25
Beginner Women
14-39
700
749
2
26
Beginner Women
40+
700
749
2
27
Single Speed Exp
ALL
750
799
4
28
Single Speed Sport
ALL
800
849
3
29
Clydesdale 210lb+
ALL
850
899
3
30
Tandem
ALL
850
899
3
31
First Time Racer
ALL
900
999
1
E
E-Bike
ALL
900
999
2
This is your class number please mark it on your left calf.